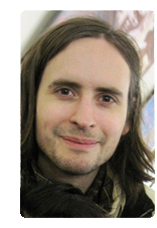 About me
My name is Lars Martinsson and I'm born and raised in the north of Sweden. Basically 3D is the mix of my two biggest interests, Art and Computers. And I have specialized within the areas of character modeling and texturing. Although I haven't been able to resist playing around with the other fields within VFX/3D, where I have gained a basic overall knowledge.
Since the beginning of 2015 I have been working at Industrial Light & Magic in Singapore where I just recently finished my third project, Kong: Skull Island. So far in addition to Kong I have had the pleasure of being part of the crews of Warcraft: The Beginning and The Great Wall, modeling everything from creatures and digi-doubles to environments. Ive also had the opportunity to create and animate blend shapes, muscle flexes and anatomy corrections for creatures and characters for shots. Before my move to the VFX industry I workad at Crytek for many years as a character artist on games like Crysis 2, Crysis 3 and Ryse making everything from main and story characters to enemy creatures.
If you find my work and ideas interesting do not hesitate to contact me and we can talk over the phone for a starter and see where it leads.

Contact Info
Phone: 0065 9059 0403
Email: me

lars-martinsson.com
Skype: lars_martinsson